Introduction
Grace Valley Islamabad is an auspicious housing project near the T-Chowk Rawat Islamabad. It specifically comes up with the determination to provide peace of mind with serenity in the atmosphere. Meanwhile, it is present at a prime location where an abundance of vast natural and scenic beauty.
* We will Get Back to you within24 hours
Grace Valley Islamabad Owner
The owner of the society gives confidence to the residents and the investors. The owner of Grace Valley is Mr. Abdul Rasheed Khan.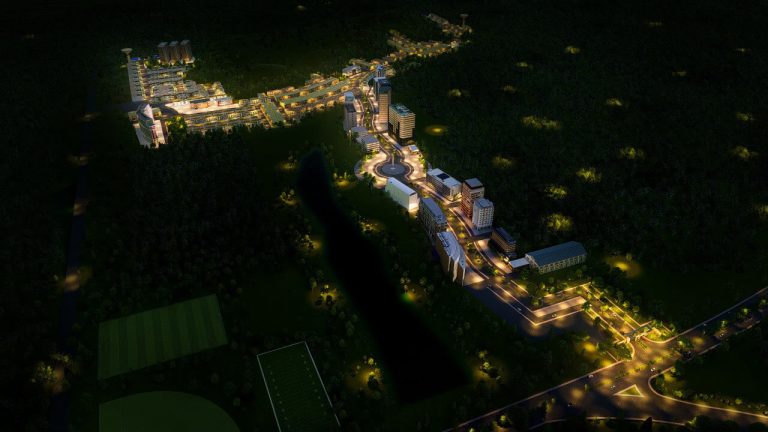 Location plays a vital role when we are looking to buy a property. Grace Valley is located at the gateway of Islamabad. It is opposite Rawat T-Chowk, Al Riaz CNG which makes its location most accessible from all sides of Islamabad and Rawalpindi.
Grace Valley is surrounded by some of the best places in Islamabad and Rawalpindi:
Giga Mall
DHA Phase III
T-Chowk
Rawat
CUST University
Ring Road
Rawalpindi
GT Road
Grace Valley Islamabad NOC Status
Most housing societies in Islamabad and Rawalpindi claimed NOC approval for their housing project. As your reliable investment partner, ANZO Marketing never suggests you invest in those projects who have legal issues. Grace Valley has an approved NOC status for their housing project under the supervision of the CDA (Capital Development Authority) on over 436 Kanal.
Grace Valley Islamabad LOP
The LOP of Grace Valley is also approved by the concerned authorities CDA. Grace Valley has gained the approved LOP on over 436 Kanals.
It is also important as NOC, if the society has the LOP approved it means that the project owner can start working on the site and advertise. At first, Grace Valley owners has 436 Kanals of Land. After gaining the NOC and LOP, the society has managed to spread the land to 700 Kanal land.
Grace Valley Islamabad Blocks
Grace Valley has divided into three major blocks that are under:
Grace Valley Block A has two sizes of plots cutting available for sale right now: 
11 Marla

1 Kanal
Block B has three sizes of cutting available for sale:
5 Marla

7 Marla 

10 Marla
In block C Grace Valley Has announced four categories of plots:
5 Marla

6 Marla

7 Marla

10 Marla
Grace Valley Islamabad Payment Plan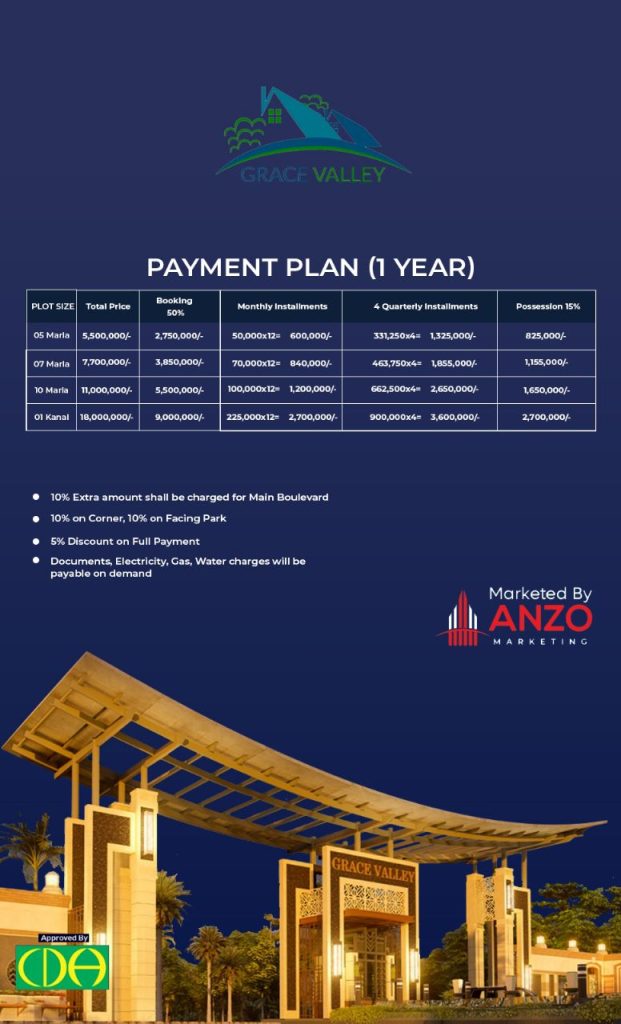 Features and Amenities in Grace Valley
The society has announced the premium amenities in Grace Valley, so can residents can enjoy and live a healthy lifestyle. Some of the features and amenities are as under:
60 FT Main Boulevard

Hospital

Mosque

Grace Apartments

Grace Villas

Shopping Mall

Food Corner

Underground Water

Electricity

Gas

Graveyard

Green Spaces

Gated Community 
Reason To Invest in Grace Valley Islamabad
Whoever is looking to invest or wants to buy a plot, Grace Valley is one of the best options both for residents and investors. The key points of Grace Valley are becoming the reasons that people are getting attraction. One of the major reasons is its location, location is right opposite the T-Chowk Rawat, adjacent to DHA Phase III, and near Saffron City Islamabad, the other aspects include it being near the gigantic shopping mall GIGA, and CUST University. You can also enjoy hassle-free traffic in the future because the ring road, motorway, and expressway will be constructed and updated. 
Grace Valley Islamabad is a NOC-approved housing society located at T-Chowk Rawat. It is the best time to invest because the prices will increase in just a few months because of Motorway, Express Way and Ring Road, the facilities they announced are very much on the card. For booking and details contact ANZO Marketing which is your reliable investment partner.
If you have any querry reach out to us via the following contact information.
* We will Get Back to you within24 hours