Nova City Peshawar is the latest addition housing society project launched by Nova Group in the center of KPK, Peshawar. Its site location is near the M-1 Motorway and close to Charsadda and Peshawar city. It will be the most viable investment opportunity for those who live in the surrounding of Peshawar.
After the successful launching of Nova City Islamabad, that is equally praised by investors and residents. People from across Pakistan have shown great interest in investing in this society. This housing project will be unique due to its luxury lifestyle and futuristic facilities.
Nova City Peshawar Owners & Developers
The Nova Peshawar is developed by the well-known developers Nova Group, Pakistan's renowned real estate sector. In addtion, the Nova City Peshawar Owner name Mr. Junaid Afzal. Moreover, Nova group gained much reputation after the successful launch of Nova City Islamabad.
The Nova Group is known for building constructions environment-friendly with foolproof security. The location of this project was no doubt chosen to make it a highly accessible residential project.
Naturally, the demand for the issuance of NOC has been the first and main frequently asked question asked by the investors. As a result, the NOC Objection Certificate (NOC) of Nova City Peshawar has been approved by the relevant authorities. The management and developers together succeed after making so much efforts to complete all the requirements for the early approval of NOC.
Nova City Peshawar Location and Map
Popularity of Nova City Peshawar is mounting  due to its location because  is quite accessible. Moreover, the housing society is ideally located alongside M-1 Motorway near Charsadda and Peshawar.
The following map provides the complete picture of the Nova Peshawar.
The location of any real estate project significantly impacts the investors and  it holds great attraction from investment point of view. Therefore, Nova City project features  and an ideal location  are chief ingredients to attract investors and be decisive in its success.
The housing scheme of Nova City is easily accessible in various ways. The accessibility points of Nova City are as follows:
Near Mardan Road, almost 7 minutes drive away
Near to Peshawar City at almost 19 min drive away
Near Charsadda City at almost 12 min drive away
Near to Nowshehra City at almost 36 min drive away
Near N-5/G.T Road at almost 19 min drive away
A few minutes away from DHQ Hospital Road
Near to Bacha Khan International Airport at 51 minutes drive
Nova Peshawar Nearby Landmarks & Places
The Nova City housing scheme has significant nearby places and landmarks. Following are some of them:
Peshawar City
Charsadda City
Nowshera City
Mardan City
Risalpur
Risalpur Airbase
N-5 National Highway
Bacha Khan University
Paradise City Nowshera
Bacha Khan International Airport
M-1 Islamabad-Peshawar Motorway
Nova Peshawar Master Plan
Nova City Peshawar being in the pre-launching phase, the master plan is not officially disclosed. However, the layout of the master plan has been shared with the public.
A professional team of architects designs the master plan. The infrastructure of Nova City includes every modern facility. This residential project has many residential plots available for possession as per the plan and design. In addition, the town developers are planning to develop a commercial zone in Nova City, with necessary  facilities like educational institutes, health zones, and offices.
The housing society of  construction and development is undergoing at a faster pace. Anzo Marketing has collected the information from our reliable resources that Nova Peshawar has some expected residential plots that are the following:
Nova City Peshawar Payment Plan 2022
NOVA City Peshawar is a unique housing society with attractive payment and installment plans. It is very reasonable and easy and is popular among the people of Peshawar and the surrounding cities. NOVA City Peshawar rates are different according to plots sizes, investors can easily invest according to their budget.
There are plots of various sizes, such as 5 Marla, 10 Marla, and 1 Kanal. All these plots are available at a down payment of 20%. These will be made available at 40 monthly and 8 quarterly installments. 
The given payment plan is for all non-category plots. An extra amount of 10% will be charged in the case of category plots like corner plots and plots facing the park. All these prices can be changed without any prior notice. The charges for development are not included in the mentioned amount. A 10 % amount should be paid in 45 working days. Each installment should be paid before the 10th of each month.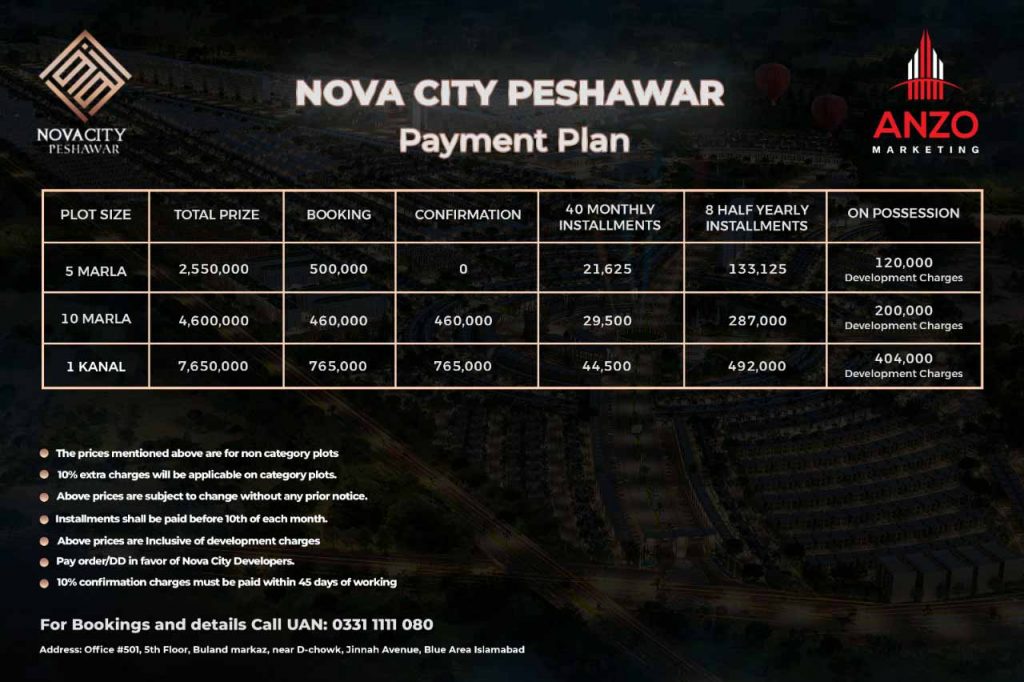 NOVA City Peshawar Features and Amenities
Basic Amenities
NOVA Peshawar ensures the provision of all basic amenities such as water, electricity, and gas to all the residents without any delay or hurdle. This makes NOVA City a better place to live as all the necessities are available to the people in the society.
Eco-friendly Environment
NOVA Peshawar will be in close relation to nature. This is a unique feature as there are not a lot of projects focusing on the protection of the environment. It offers nature-friendly and sustainable surroundings in the housing society.
Gated Community
NOVA City Peshawar will ensure the security of its residents so that the residents can live a secure life. The criminals will also be deterred as the community will be gated.
Educational Institutions
Education is important for the betterment of present as well as future generations. It can bring out a positive change in society. NOVA Peshawar will provide the residents with an international standard of education. They will promote high-quality education for the well-being of society.
Medical Institutions
NOVA City Peshawar will ensure to provide high-quality and international standards of health facilities. The residents of the society will be provided with timely and quick health facilities in case of emergencies.
Grand Mosque
In our societies, religion plays an important role in people's lives. They give much significance to the religious and spiritual rituals. NOVA Peshawar will provide a magnificent mosque to the residents of the society so that they can perform their rituals collectively. Small mosques will be built in each sector as well.
Parking Garage
A large parking area will be built for the residents of the society. It would be large enough to adjust their vehicles as well as free movement of the vehicles. The safety of the garage will be ensured, and the cars of the residents will be safe and protected.
Proper Sewage System
The sewage system of the society will be properly maintained to ensure the flow of water. For this purpose, drains and main holes will be included in every house. In this way, the cleanliness of the society will be maintained providing a clean and eco-friendly environment to the society.
Why Invest in Nova City Peshawar?
The amenities and features provided by any society attract the investors to invest their capital in any housing society. NOVA City Peshawar is one such housing society that is located at a prime location, providing all the facilities, NOC approved, and easy payment plans. NOVA Peshawar is located in an accessible location near Peshawar-Islamabad Motorway M-1. It can also be easily accessed from Peshawar Ring Road and Charsadda city as well. All basic amenities such as water, electricity, and gas would be provided to the residents of the society. Parks, shopping malls, carpeted roads, and other facilities are being provided by the city. The indoor and outdoor sports facilities, advanced education and health services, and the grand mosque add to the value of NOVA Peshawar. The 24/7 security surveillance and the concept of a gated community enhance the values of NOVA City Peshawar. The NOC approval of any housing society also plays a major role in order to attract investors. The NOC of NOVA Peshawar has been approved by Tehsil Municipal Administration (TMA) so it is safe to invest in the housing society. The payment plan of NOVA Peshawar is also very affordable and the easy payments attract more investors for investment. The sewerage and waste disposal system in society is a plus point for the investors. All these features and amenities fascinate the investors and they invest in the housing society in order to fulfill their dreams and purchase property and build their dream homes.
| Pros | Cons |
| --- | --- |
| 24/7 Availability of Basic Amenities | |
| NOC Approved Housing Society | |
| Sustainable and Innovative Society | |
| 24/7 Security and Gated Community | |
| Solid Waste Disposal Mechanism | |
| Business & Commercial Hub | |
| Health and Education Facilities | |
| | |
How to Book a Plot in Nova Peshawar?
For booking any kind of property in the housing society, visit our office with the following documents:
Two passport size pictures
Two copies of your CNIC
NICOP for overseas clients
Two copies of the I.D. card of your next of kin
For online booking, visit the official website of Anzo Marketing.
You've Got Questions, We've Got Answers
We build effective strategies to help you reach customers and prospects across the entire web.
NOVA City Peshawar is a modern and state-of-the-art society that has been designed by different experts. This society offers a luxurious lifestyle at affordable prices. 
Tehsil Municipal Authority (TMA) Peshawar is supposed to have approved the NOC of NOVA City Peshawar. 
NOVA City Peshawar has been designed while keeping in mind the affordability of the investors. The flexible and easy installment plans make it an affordable residential society.
NOVA City Peshawar has a high potential yield as the installment plans are affordable and flexible for less advantaged families as well. As a large number of people are investing in this project so the ROI can be high.
NOVA City Peshawar is located close to M1 Motorway and is also in close proximity to District Charsadda. 
NOVA Group of Developers is the developer of NOVA City Peshawar.
In order to book your plot in NOVA City Peshawar, you can visit our office, Anzo Marketing in Blue Area Islamabad, or call us at 0331 1111080. 
NOVA City Peshawar is a golden opportunity for investors who want to invest in real estate in the upcoming years. It is offering quality and high-standard lifestyles to the residents as well as the investors. The sustainable environment and accessible location add to the value of this society. The NOC is approved which makes the investment in safe and trustworthy hands. The legality of NOVA City Peshawar cannot be questioned. If you are interested in investing in other housing societies like Park View City, Prime Valley, or Blue World City, visit the main office of Anzo Marketing located in the Blue Area Islamabad near D-Chowk.

If you have any querry reach out to us via the following contact information.
* We will Get Back to you within24 hours